Lower Gorge
Explorer
Tour
The Lower Gorge Explorer is the quintessential Carnarvon Gorge experience, seen through the eyes of a local.
In the interest of public health, we have decided that all Lower Gorge Explorer Tours throughout the 2022 season will be private.
What a bonus! This means you'll have an expert guide all to yourself!
The
Classic
Carnarvon Gorge Day Tour
On this 14 km Lower Gorge Explorer Tour we'll visit four of Carnarvon Gorge's most diverse and well known sites.
At our first major stop, the Art Gallery, we'll introduce you to some of the world's most significant stencil rock art, and some of scientific and cultural meanings behind the 2000+ motifs developed by the Karingbal and Bidjara peoples.
Next up, we'll visit Ward's Canyon; a spectacular side gorge that generates its own unique micro-climate and supports the Gorge's one and only colony of King Ferns.
After lunch we'll venture into the awe inspiring Amphitheatre and piece together the geological history of this landscape.
And finally,  we'll explore how local hydrology drives the never ending springs of the beautiful Moss Garden.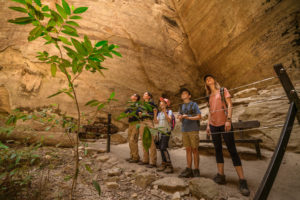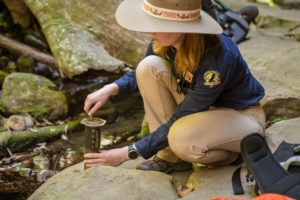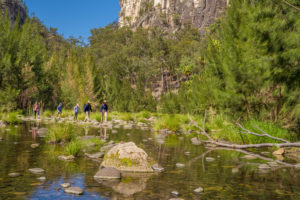 Lower Gorge Explorer Tour
Details
At a glance. Everything you need to know before booking this classic Carnarvon Gorge day tour. For further information, please call, email, or check out our Frequently Asked Questions.
Carnarvon Gorge at a
leisurely
pace
The last thing we want during your Carnarvon Gorge day tour is for you to feel rushed.
You have, after all, made a conscious effort to get here, and this may be your one and only visit!
Rest assured we won't be cracking the whip. That's simply not our style.
Instead, we'll take it slow and allow time for conversation, chance encounters with flora and fauna, and a hot cuppa, of course!
Lower Gorge Explorer Tour
Schedule
Do you have a specific Lower Gorge Explorer Tour date in mind, but don't see it on the calendar? 
Contact us! We'll do our very best to accommodate your special request.
Note: All tours require a minimum of two participants to run. Should you be a solo traveller, and wish to book a single ticket, please be aware that the tour will be cancelled if minimum numbers are not met. In the event of such a cancellation, Carnarvon Gorge Eco Tours will offer your choice of a refund or alternate date.
All 2022 Lower Gorge Explorer Tours will be private tours, ensuring you won't have to mingle with anyone outside your immediate family, household or travelling group. Plus, you'll have the expertise of Simon or Michelle all to yourself!
From 17 December 2021, all staff and guests attending an experience provided by Carnarvon Gorge Eco Tours are required to be fully vaccinated against COVID-19, as per the Public Health and Social Measures mandated by the Queensland State Government.
All guests are required to check in using the "Check In Qld" app, and present their COVID-19 digital vaccination certificate, immunisation history statement, international COVID-19 vaccination certificate, or approved medical exemption prior to joining our tours.